What to Expect at LiveWell Family Chiropractic
When you come into our friendly, relaxed office, we want you to feel at ease knowing that you're in the right place to reach your healthcare goals. Our awesome team is ready to welcome you and give you the most compassionate care you've experienced!
For Our Adult Patients:
Your First Visit
After you're warmly welcomed in, you'll be taken on an office tour so you feel comfortable in our home-like surroundings. Then you'll go back to see Dr. Kris, Dr. Jennie, Dr. Anna or Dr. Claire where they'll go through your health history with you and address any questions you might have. We'll also walk you through what our chiropractic examination involves prior to starting.
This will include:
Neurothermal Testing
EMG
Range of Motion
Balance Testing
X-rays if needed (not taken for children or expectant moms)
Your Second Visit
On your following visit with us, we'll give you answers to these four questions:
Why isn't your body healing?
How can we help you?
How long it will take?
How much it will cost?
We'll look at all the findings from your previous visit together and come up with a plan of action that will address your concerns and goals.
Your Regular Visits
If you want to get results you need to follow a plan. Once we have identified the cause of your problem, we put the plan into action. When you come in for your appointment with us, you'll hang up your coat and get comfortable. We're a paperless office, so after your sign-in, we're able to pull up your records immediately, making your visit fast and convenient. To ensure we are on track with your health goals, we also perform regular progress exams every 10-14 visits to see if there's any changes in your needs. These exams give both the doctors and patients confidence that they are on the right track.
Do I have to go for the rest of my life?
It's your decision to choose how much you want to benefit from chiropractic care with us. Our care plans are focused around your goals, and we're here to help you meet them, whatever they may be.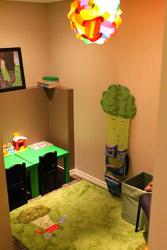 For Our Pediatric Patients:
Your Child's First Visit
Our chiropractic care plan differs slightly for children, since they have different needs-and attention span! We'll go through their case history with mom or dad and do a physical exam. We will also do a thermal nerve scan to assess the function of your child's nervous system.
Your Child's Second Visit
We'll go through the findings with you from your child's examination. Follow-up visits are always a bit faster, so you can easily fit your kids' care into a busy schedule. We're here to answer any questions you might have about our healing, warm care. Call our office today to get started. (780) 705-3556